Steel Door Sets
Our steel door sets are manufactured and fitted to very high standards. The main purpose of a steel door set is to provide a high level of security, extra protection and fire-proofing. Our steel door sets are guaranteed for five years.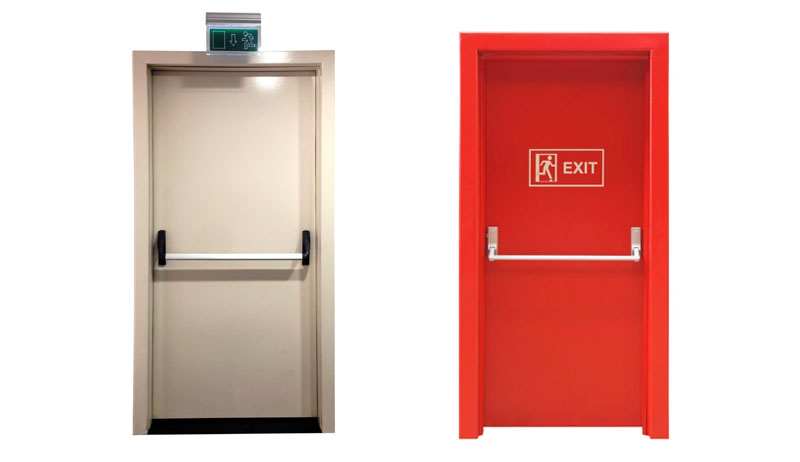 Do discuss your requirements with us as it is important to make sure your steel door set has the right specification for what is intended and also the correct certification to ensure total compliance.
We offer a range of door sets in different colours and with different functions and certifications.
The options include:
Steel security doors
Fire exit doors
Fire-resistant doors, up to 4 hours
Panelled doors
Personnel doors
Louvred doors
Acoustic doors
Blast doors
A door set is either a hinged internal door or an external steel door panel which has been factory fitted with a steel or aluminium fixing subframe.
These doors are specifically tested for specific uses which can be fire protection, sound insulation, ventilation, security etc. Door sets which are fitted into most UK buildings require a specific certification and have to conform to a set of standards in order to be fully compliant and 'fit for purpose'.
Due to the many uses of these steel door sets, the number of standards are extensive especially with fire protection and security. They work well in a multitude of environments from hotels to factories and care homes to public buildings.
The door sets are available in any RAL colour or they can be supplied and fitted as a standard grey.
Add-ons include panic push buttons, door closures, windows, letterboxes and 12 point multi-point locking systems.
We also supply and fit fire shutters.
For any questions or advice on if steel door sets please let us know your specific requirements., Please call us on 01273 515911 or email us at info@eliteindustries.co.uk.